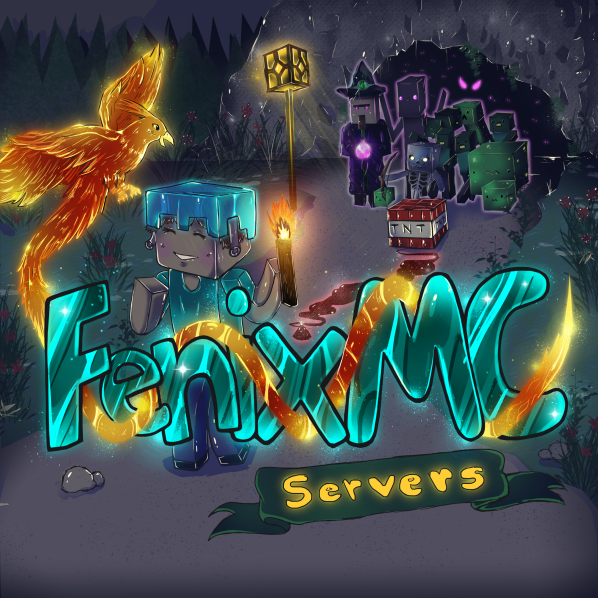 We offer an amazing growing community experience where you can make friends, and enjoy the best Minecraft has to offer. FenixMC is part of the next generation of networks. We have designed FenixMC to be for the players and we have optimized FenixMC to be suitable to every playing level. We always strive to make the best games and bring the most fun to everyone. We are constantly creating new content to please our players and we offer an experience unlike no other so that all players will feel welcomed and loved. Our servers run 24/7, and with this you'll be able to experience some of your favourite gamemodes with a smooth lag-free experience. Here at FenixMC we also offer various custom plugins, our most notable is "EXP Tanks," EXP Tanks allows players to store their EXP in a configurable tank, this adds a lot of dimension to our server, and also, this tank can be raided by opposing factions to add more excitement into the gamemode. FenixMC includes classic gamemodes such as Factions, SkyBlock and Survival. All of these gamemodes have custom features that you won't be able to find on any other generic gamemode server. With our professional and experienced staff team, we strive for excellence and the upmost best support, so you will not have trouble asking our friendly staff team any questions! In addition to this, FenixMC has a communal Discord server which gives players and staff a chance to easily communicate with each other and improve their experience even further.
Purchases and Payments
Before finalizing a purchase, make sure you have entered the correct Minecraft username as we are unable to transfer packages to different users. Once payment has been completed, most customers receive their items in-game within 10 minutes. If you are unable to get on the server, you'll receive your items the next time you log in (even if this is at a later date). If you do not receive your orders, contact our support email (see below).
Currently, all purchases are processed through Paypal.
Customer Issues
If you have any problems or queries with purchases, please don't hesitate to contact support@fenixmc.co or contact a staff member on our Discord (see header)! The latest you will receive a response is 3 business days.
Please note: All Charge-backs will result in an IP ban from our network.